2023 CSA Season
What is a CSA?
CSA (Community Supported Agriculture) can take a number of different forms. At Love Letter Farm, members directly support an ecologically responsible farm operation by investing early in the growing season. In return for that investment, members get a "share" of the farm in the form of weekly boxes containing high-quality, healthy, fresh, seasonal veggies. With Love Letter Farm, each box is a lovingly tended snapshot showcasing the amazing range of colors and flavors that vegetables bring.
What you'll get from a CSA share with Love Letter Farm
By signing up for CSA, members get to try out some unique varieties not always available at a supermarket. Love Letter CSA members also get the benefit of having a direct relationship with their farmer and the comfort of knowing that they are directly supporting regenerative, ecological agricultural practices. Shares are available for pick-up or delivered to your door.
2023 season is OPEN! Deadline to sign up for the main season is Monday, May 1st. Please read the following sections to make sure our CSA is right for you!
Share Info
Shares are generally sized to be manageable for singles, couples, and small families.
Main season share (16 weeks): July-Oct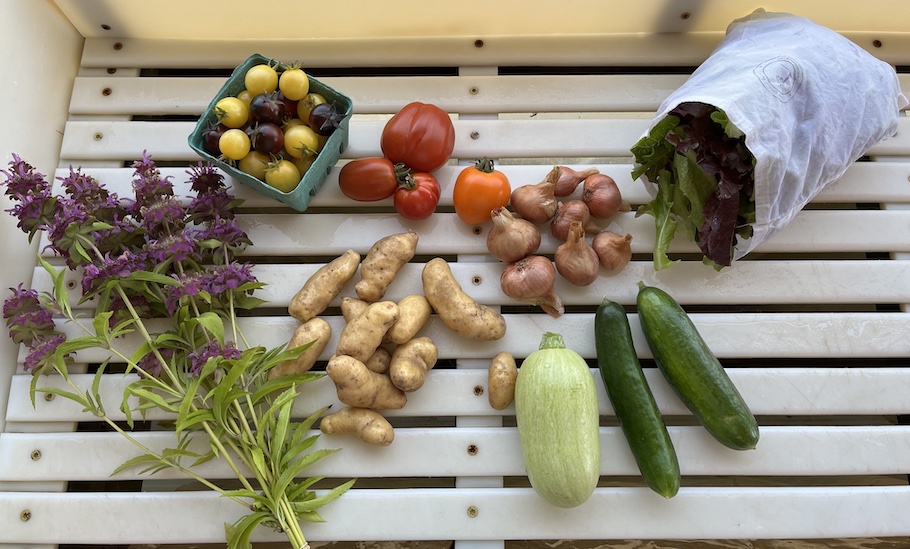 Offered once a week on Wednesdays. These shares are full of summer and fall bounty. Shares include 7-9 items of peak season produce. Examples: herbs, salad, lettuce, cucumbers, tomatoes, squash, onions, potatoes, peppers, tomatillos, bunching greens, melons, roots, and more! Shares are valued at $35/week
Main season share price: $560 Price with delivery: $640
Fall/winter share (5 weeks): Nov-Jan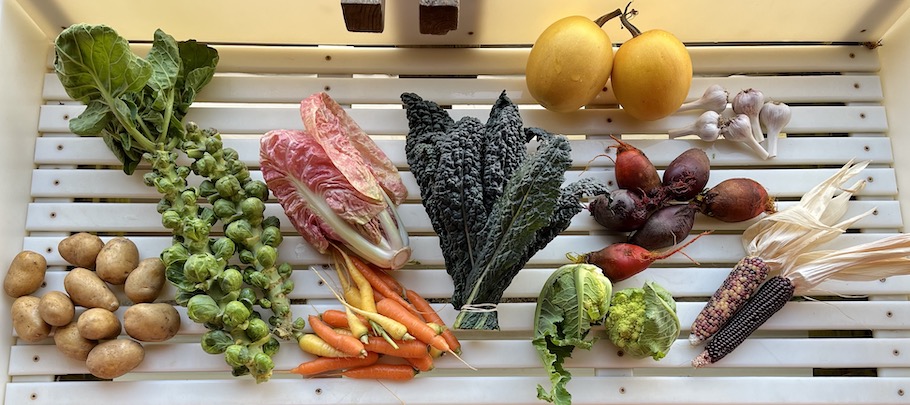 Offered every other week between Nov-January with a two week break between Dec-Jan. These larger shares include lots of storage friendly veggies and greens that love the chill of a little frost. Examples: collards, kale, chicories, onions, garlic, leeks, potatoes, winter squash, turnips, parsnips, carrots, beets. Each share includes 8-9 different vegetables. Shares are valued at $45/week
Fall/winter share price: $225 Fall/winter share price with delivery: $250
The whole enchilada
Get a small discount by signing up and committing to all 21 weeks of produce! (Main season + Fall/winter)
Whole enchilada share price: $746 Whole enchilada share price with delivery $846
Payment Options
Love Letter Farm accepts cash, cards, check, venmo, ACH, and SNAP! Fill out an interest form.
Payment plans are available with a $100 non-refundable deposit
SNAP/Double Up Food Bucks options available
Scholarships are available on an as needed basis
Returning members get 10% off any share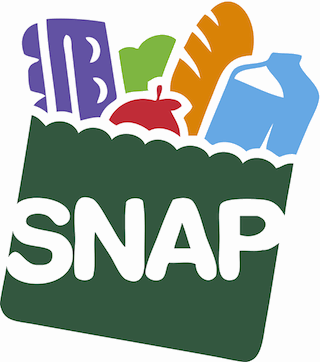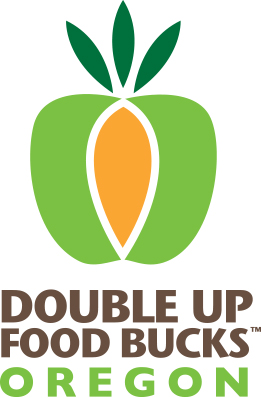 How to get your share
Pick-up
Your share will be pre-packed in a reusable tote-bin and dropped off at your pick-up site. When picking up, be prepared with your own produce bag(s)/container(s) to transfer your vegetables into.
Locations
Wednesday: 4pm-7pm near SE 33rd and Ankney
Wednesday: 4pm-7pm N Portland near PCC Cascade
Wednesday: 5pm-7pm at 8316 N Dwight Ave, Portland OR
Farm pick-up is available in Gresham on Thursdays between 3pm-5pm
Home deliveries
Deliveries go out Wednesdays. Reusable totes will be left on your porch or other convenient area. Please return totes the following week.
Delivery fees
Delivery orders will be charged an additional $20 deposit to cover lost or damaged totes that is refunded at the end of the season.
Delivery is calculated at $5/week which roughly covers the cost of one employee's delivery time at $15/hr.
LLF delivers to addresses in these zip codes: 97203, 97206, 97211, 97212, 97213, 97214, 97215, 97216, 97217, 97218, 97227, 97232, 97266
Schedule
Main Season: Weekly, starts Wednesday July 5th, ends Wednesday October 18th [[.ics]](/files/2023-love-letter-farm-CSA.ics)
Fall/Winter Season: Wednesdays - 11/01, 11/15, 11/29, 12/13, 01/03 [[.ics]](/files/2023-love-letter-farm-winter-CSA.ics)
Sign Up Deadlines, Cancellations or refunds
For Main season shares sign up by May 1st, 2023! Fall/winter shares are open until August 15th.
Cancellations are available at any point before the sign-up deadline for a full refund. After June 1st, any payments are non-refundable.
Scholarships
Please email Meaghan directly meaghan@loveletterfarm.com about donating to or purchasing a scholarship share. Scholarships are based on availability and need.
Check back, or follow the newsletter for updates!
2023 Crop List
Asian Greens
Arugula
Basil
Beets
Broccoli
Brussels Sprouts
Cabbage
Carrots
Celeriac
Celery
Chard
Chicory/Radicchio
Cilantro/Corriander
Collards
Cucumbers
Dill
Dry Beans
Edible Flowers
Eggplant
Garlic
Kale
Kohlrabi
Leeks
Lettuce
Mustards
Onions
Parsley
Parsnips
Peppers
Popcorn
Potatoes
Radishes
Salad Mix
Salad Turnips
Shallots
Summer Sqash
Tomatoes
Winter Squash